Buy Music
---
"Sides" CD overviews
---
   Throughout this pleasing selection of tracks, Vitali T weaves a fusion of new age jazz that flourishes with rock and roll, and a presence of burnished soul. The record moves in-between the tracks quite well, allowing them to bleed into each other, benefiting the cohesive feel of the album. The emotional core of the album is felt through the ebb and flow of each song, and leaves the listener in a state of pure delight. A must-hear album for all who enjoy new age music, and those who are just entering the listening scene of such music. 
   This guy has amazing technique. His feel is incredible, his tone is second to none, and the composition and phrasing are just perfection. If you think Steve Vai, Joe Satriani, Larry Carlton, Pat Metheny and Mike Stern are great, this album is for you. Amongst a plethora of guitarists with great technique, few shine through with as much soul as Vitali T. The songs on this album demonstrate that pretty clearly. Songs like "Another Wind", "Minus-Plus" and "Tonal Gravity" all show of his impressive ability to orchestrate his powerful driving rhythms. Songs like "Vivaldi L'arebre Du Destin" and "Good-Nite" give you a bit more a softer angelic feel. "Sounds From One Autumn" is stunningly beautiful, "Crazy Times" is fantastic, and "Steps To Anywhere" is incredibly refreshing. This album is so well put together with no weak tracks to speak of. The CD in its entirety is consistently well composed, crafted, and produced, with a consistent mixture of new age rock, jazzy sounds, and some new and fun musical territory. 
   All the tunes on this record benefit from the added texture and dimension of Vitali T's playing. The rhythm section is solid as well. Vitali's compositions have a nice variety and sophistication that are unmatched by other composers, and each song is varied, complex, and interesting. Vitali is able to let his heart and soul genuinely sing and communicate through his guitar and compositions. To be able to hear and experience this artist's invaluable gifts of music to the world is an invaluable blessing.
 - Brittany Posey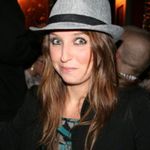 ---
   Atlanta based guitarist Vitali T has released Sides on the V.Kay Studio label. Vitali T is an accomplished guitarist whose influences span from Larry Carlton, Joe Satriani and Eric Johnson to George Benson, Joe Pass and John Scofield. These influences have been well assimilated and Vitali skillfully blends these styles into his own personal sound and individual feel.
   The CD is a generous collection of 12 tunes which showcases Vitali's versatility. There is no lack of energy here and a true feeling of joy and enthusiasm is reflected in the music. In addition to his expertise on the guitar (and equally impressive) Vitali also wrote, arranged and produced Sides, not an easy feat.
   Vitali T is sure to get attention with the release of his first CD. He is supported by some of Atlanta's finest: John Tirone, bass and David Peters, drums; the CD features pianist, Randy Hoexter, Bill Devlin on acoustic guitar and bassist Alex Posey. 
   Among the cuts on Sides, Fly Away opens the session and clearly demonstrates Vitali's ability to a wide range of expression. Steps To Anywhere further demonstrate his technical abilities in this short unaccompanied piece that is expertly and precisely arpeggiated. Crazy Times is somewhat reminiscent of the "CTI Records" sound and my personal favorite. The remaining selections on the CD solidify Vitali's instrumental expertise. This CD is a must for any real guitar aficionado. If you dig Johnson, Stern and Carlton you'll certainly enjoy listening to Vitali T Project.  
 - Mike Kelly